Enjoy This Sound Bath As You Relax More Deeply Into The Autumn Season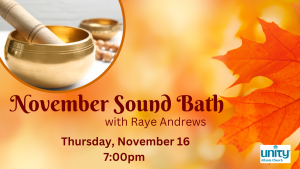 Date: Thursday, November 16th
Time: 7:00pm EST
Location: Chapel
Cost: Love Offering
Autumn is deepening and we can feel the shifting of time. We are softly falling into the darkest days of the year. Now we are being invited to take a long inward gaze as we are feeling the urge to hibernate.  Join Raye Andrews for a beautiful symphony of vibrational sound that will ease you into alignment with the flow of this seasonal movement. Come connect in the sound frequencies of rest, relaxation, harmony, balance and love.
Please bring whatever will assist you in being comfortable and cozy. Yoga mats, blankets, pillows, eye covers and water to drink on your ride home.
This beautiful event is free to all. We are asking a suggested love offering of $20, or whatever you can give in support. Everyone is lovingly welcomed.
Love offerings can be made in person or online: https://unityatl.org/donate-online/