Adult Education abounds at Unity Atlanta.
For information on all Adult Education classes, please contact our office  770-441-0585
Current Adult Education Classes

A Course in Miracles Has Moved to a Virtual Platform
All current participants will receive an email with the log in information.  New people are very welcome to join!  if you are interested, please email MWilkinson@leadstrat.com in order to receive information on how to attend. 
This course aims at removing the blocks to the awareness of love's presence. The opposite of love is fear, but what is all-encompassing can have no opposite.
This course can be summed up very simply:   Nothing real can be threatened. Nothing unreal exists. Herein lies the peace of God.
Facilitator: Michael Wilkinson
Sunday's at 9:15 am
Chapel-Room 107 (As of 3.22.20 this course is now online)
This is an open and ongoing class.  All are welcome.  Drop-in any time.
Books can be ordered through The Wisdom Well-Unity Atlanta's bookstore.
Fall Faith Spirit Groups: Transformed By Truth
Join one of two Fall Faith Spirit groups that will be studying the Unity classic work of Emilie Cady: Lessons in Truth.  Both groups will meet via Zoom for 7 weeks.
Beginning Sunday, September 20th thru November 1st 5:00-6:30 pm, hosted by Jan Gurr. Click here to register for Sunday group.
Beginning Monday, September 21st thru November 2nd 7:00-8:30 pm, hosted by Kathleen King. Click here to register for Monday group
The book is available in our Unity Atlanta bookstore or you can email Pam Johnson at pam@unityatl.org to order.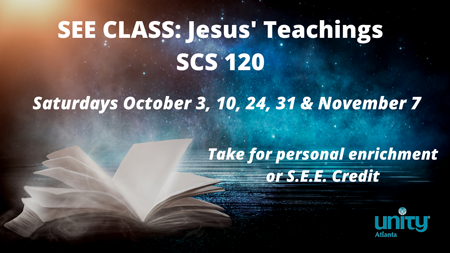 Jesus' Teachings (SCS 120)
Take this class for SEE credit or for personal enrichment!
Teachings about the Gospels have usually portrayed Jesus Christ as the "Great Exception" to being human. However, by focusing upon his sayings, we can see Jesus as the "Great Example" for Spiritual Awakening, Empowerment, and Transformation. By exploring the teachings of Jesus, rather than the teachings about Jesus, we can follow that example. Students will develop a deeper and more practical understanding of Jesus as Master Teacher and Wayshower through reflection upon his sayings and methods. In this way, they will learn to build a strong spiritual foundation for "Christ Consciousness."
Dates/Times:   Saturday October 3, 10, 24, 31, and November 7  (No Class Oct. 17th)     10:00 am – 12:00 pm
Registration:  Class conducted via ZOOM
Required; one time registration for all 5 classes
Register in advance of the series,  Click here to register.
After registering, you will receive a confirmation email containing the Zoom link to connect to the classes.
Alternatively, send email to LUT@UnityAtl.org requesting registration.
Registrations accepted through October 3rd; after October 3rd, please contact the facilitator.
Required Text:  Bible (New Revised Standard Version)
Recommended but not required:  Borg, Marcus J. Meeting Jesus AGAIN for the First Time. HarperCollins, 1995.
Price:
Love Offering: suggested $10/class
SEE Credit is an additional $45 through UWSI; instructions will be provided in the syllabus