Adult Education abounds at Unity Atlanta.
For information on all Adult Education classes, please contact our office  770-441-0585
Current Adult Education Classes:
Rebirth: A Trip to Bethlehem with Cora Alexander, LUT, CLC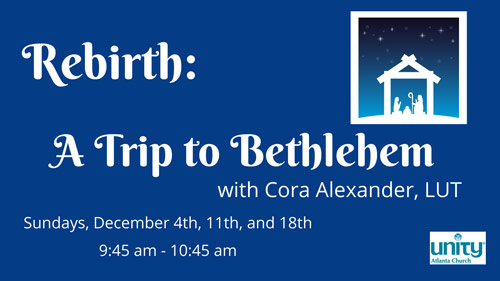 This three-week personal growth class is your metaphysical trip to Bethlehem. Through reflection and action, you will experience the Christmas story as your rebirth and as your individual Spiritual transformation.  The learning outcomes for the one-hour weekly sessions are 1) explore high-level metaphysical themes in Luke 2:1-21 (NRSV); 2) study our 12 Spiritual Gifts and 3) close with the Twelve Powers Spiritual Communion. It will be a great time to set our intentions for 2023!
Dates:  Sundays, December 4, 11, and 18
Time: 9:45 am – 10:45 am
Location: Staff Conference Room and via Zoom
Instructor: Cora Alexander, Licensed Unity Teacher
This is a hybrid class.  Everyone needs to register in advance to receive the handouts and the Zoom link, if they plan to attend online.  You can also email: purpose-prosperity@att.net to register or ask questions.  After registering, you will receive a confirmation email containing information about joining the meeting.
https://us02web.zoom.us/meeting/register/tZEkce-trDgsH9agWpnL-df3YNFFfKHiEai8
Christmas Unwrapped with Rev. Larry Bergmann
Join Licensed Unity Teacher, Rev. Larry Bergmann for the 45 min DVD "Christmas Unwrapped" produced by the History Channel and following discussion of lesser known Biblical connections, interesting tidbits, and 21st century theological points of view.
For example:  Did you know that Christmas was once banned Boston?  Do you know which Christmas traditions are based in the Bible and which are not?
In this class you 'll learn where a number of our Christmas traditions come from and how the history has changed over time. 
Date: Sunday, December 4th
Time: 12:30 pm– 2:30 pm
Location: Unity Atlanta Church Chapel
Bring: This is a brown bag class, so bring your lunch and enjoy a chance to munch–watch–listen–and discuss!
This class is facilitated by Rev. Larry Bergmann, Licensed Unity Teacher.
This is a love offering event: https://unityatl.org/donations/
Conexión Divina – Grupo de Estudio y Oración
Lectura y discusión de libros y folletos interesantes. Únete a nosotros para con la Revda. Xiomara compartir ideas y experiencias que apoyan nuestro desarrollo personal y espiritual.
Reuniones vía Zoom los martes de 8:00 a 9:00 PM EDT                                                                     
Amor Sanación y Abundancia – Dando Vida a la Sabiduría Espiritual
Explora principios espirituales combinados con conocimientos modernos para crear la vida que deseas.
Noviembre 1, 8, 15, 22, 29
Para recibir Enlace Zoom por favor envíe Email a  xmalagon@sbcglobal.net
Practicing the Presence—A Course in Miracles

All current participants will receive an email with the log in information.  New people are very welcome to join!  if you are interested, please email MWilkinson@leadstrat.com in order to receive information on how to attend. 
This course aims at removing the blocks to the awareness of love's presence. The opposite of love is fear, but what is all-encompassing can have no opposite.
This course can be summed up very simply:   Nothing real can be threatened. Nothing unreal exists. Herein lies the peace of God.
Facilitator: Michael Wilkinson
Sunday's at 8:45 – 10:30 AM
This is an open and ongoing class.  All are welcome.  Drop-in any time.
Books can be ordered through The Wisdom Well-Unity Atlanta's bookstore.