The Unity 
Atlanta

Church 
Celebration Choir
The Unity Atlanta Church Celebration Choir has a well-earned reputation for excellence and is a powerfully uplifting presence in our church. The choir presents a wide variety of selections from gospel to new thought to contemporary music, all of which deepen the spiritual experience at Sunday services.
What our choir members are saying:
"I love all the different styles of music we do."
"I love the feeling of togetherness, of sharing and being there for each other."
"It's fun (lots of laughter!), uplifting and positive."
"I love being of service to our church in this way."
"Singing with the choir helps me talk to God."
"I feel good about affecting others in a positive way through music."
"I'm learning all kinds of new music and am improving my voice."
"I feel so much love and total acceptance."
"Now I have something in common with others in my spiritual home."
Choir, Men's Ensemble, Band and Sound Team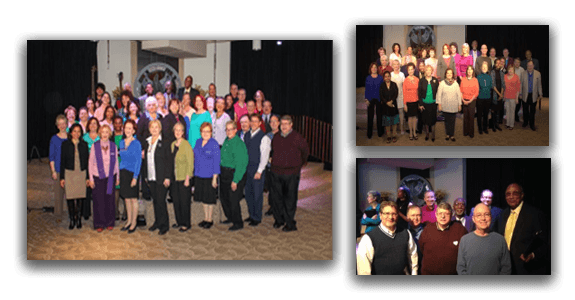 Think about what music does for you and how it adds to our church services. Ask yourself if you would like to invite music into your life in a new way that is tremendously satisfying.
*A love of singing is all that is necessary; the ability to read music is not required.*
The Unity Atlanta
Church 

Choir is back! Rehearsals are on Tuesdays at 7:00 PM in Fellowship Hall.  If you'd like to attend, contact Marilyn Hopkins (email below.)
---
Questions? Feel free to contact Marilyn Hopkins, Director of Music marilynh888@gmail.com.