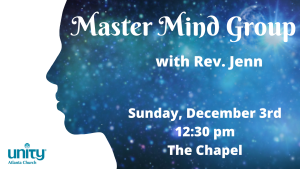 Date: Sunday, December 3, 2023
Time: 12:30 pm
Location: The Chapel
Join Rev Jenn and other like-minded individuals each month as you tap into the power of the Master Mind and gain the encouragement you need to:
set intentions
overcome challenges
experience greater fulfillment in all aspects of your life.
Through this positive, prayerful, practical process, your inner strength and wisdom unite in trust with the divine creative energy of the Universe and at least one other person.  Even when you doubt yourself, your Master Mind partners affirm and know the Truth for you so you learn to believe in yourself.
Millions of people across the globe have used this ancient principle to transform their lives – and now you can too!