Unity Atlanta Animal Blessing
June 4 @ 11:00 am

-

1:00 pm
Please join us for our Unity Atlanta Animal Blessing as we welcome in Pet Appreciation Week!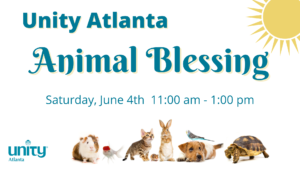 We will be giving thanks for the love and divinity brought through our animals by blessing them on this special day. Dogs, cats, and other animals–small, large, furry, and non-furry are welcome, along with their humans. The blessing will be held outdoors. You don't have to have a pet to participate, just come and celebrate the joy animals bring us!
We will also honor animals that are no longer with us. You can submit a picture of your animal to add to the memorial wall or bring a keepsake to be blessed.
Submit a picture for the memorial wall to: pam@unityatl.org
Date: Saturday, June 4th
Time: 11:00 AM – 1:00 PM
Location: Unity Atlanta Church, 3597 Parkway Lane, Peachtree Corners, GA 30092
THIS IS AN OUTDOOR EVENT
Guidelines:
We ask that you follow the leash laws by keeping animals on a leash throughout the blessing.
Non-leash animals should be properly confined (cats, birds, reptiles, amphibians).
Well- mannered animals should be harnessed, leashed, tethered, crated, or otherwise restricted in excessive movement/roaming.
If your animal does not play well with others, please bring in a carrier or bring a picture of your animal for the blessing. We want to provide a safe space for all attending.
Exercise and have your animal eliminate prior to attending. Bring a bag for any emergencies.
Vendors: We have invited some local animal focused businesses to be present so you can learn about animal services right in our own community!
FurKids
Hollywood Feed
Whiskers on Kittens
More added weekly!
And……….If they are not called to duty during the event, the Gwinnett County K9 officers will come by!